Purple Carrot meal delivery is an all vegan meal kit delivery service that offers a weekly subscription for both meal kits and ready-to-eat prepared meals with a wide variety of savory and unique recipes to choose from that make eating plant based meals enjoyable.
They have even partnered with five-time champion NFL quarterback Tom Brady to design plant based recipes and high protein meal plans as well as partnering with World Champion gymnast and three-time gold medalist Aly Raisman who believes that eating plant based "is really important to prioritize your well-being, both mentally and physically, so you can be the best version of yourself."
Given all the hype, I decided to try the plant based service myself. After a week of testing, I found that Purple Carrot's meals were not only easy to make, they were delicious!
While there are other great vegan meal delivery services like Sakara Life which also offer ready-to-eat meals, they tend to lean more toward the pricier side. 
Disclosure: Some of the links in this article may be affiliate links, which can provide compensation to me at no cost to you if you decide to make a purchase. These are products I've personally used and stand behind. You can read disclaimer here. 
Purple Carrot Pros and Cons
Pros: 
✓ Nutritious, all vegan meals
✓ Fresh, whole food ingredients without the added JUNK
✓ Wide variety of delicious, savory meal selections
✓ Offers ready-to-eat prepared meals
✓ Quick & easy ordering system
✓ Most of the packaging is reusable, recyclable and biodegradable 
Cons:
X Limited meal delivery options
X No customization
X Some meals can be time consuming to prepare  
The all vegan meal kit service has been around since 2014 and has since ironed out many of the kinks that naturally come with the start of any meal delivery service – making their ordering process and meal selection quick and easy. 
Signing Up for Purple Carrot
Purple Carrot makes signing up for a subscription super easy. You can easily add, change or cancel meals through the app or through the website.
How Purple Carrot works
It's quick and simple. 
All you need to do is head over to their website, choose your preferred meal kit subscription, make your selection from the wide variety of healthy meals provided, and select how often you would like them delivered.
You can choose from two or four servings per meal with two or three meals per week – depending on the size of your family. Then it's just a matter of waiting for your meal kits to arrive at your doorstep!
In a nutshell –
You sign up

Choose your subscription options

Set up payment details


Customize your meals
You also have the option to skip weeks as often as you'd like.
Although there are not many subscription options to choose from, it does keep things simple and still easy to work with no matter the size of family per household. 
All you have to do is double up the subscription to get the amount you need. You may or may not have leftovers – depending on how big of an eater you and your family are so it still works.
If you are just one, like myself, subscribing for two servings will either give you a larger meal to eat if you eat in big portions or give you an extra meal for the next six days if you subscribe for three days.
What's Included in Each Box?
Each Purple Carrot box comes with everything you need to make your meals a success and contains –
Fresh ingredients for every meal selected
Cooling packs for optimal preservation
A weekly menu recipe booklet that contains easy to follow step-by-step instructions for all the recipes that week – both the ones you selected and the ones you didn't choose including breakfast, lunch, and dinner options.
You can also access the recipe instructions from their website even if you've canceled your subscription. Although it's much easier having it in booklet form rather than following the small print from your laptop.  
GET $30 OFF YOUR FIRST PURPLE CARROT BOX WITH CODE "CARROT30"
Pricing and Meal Selection  
Pricing is set based on the number of weekly meals you choose – breakfast, lunch or dinner – and the amount of deliveries you choose per week. 
By default, Purple Carrot meal delivery gives you meal recommendations for the first week to get you started. You have the option to change these up and select your own from the wide variety of options they have listed. They do a good job with their recommendations but it's nice to have the option to make your own selection. 
You can choose to mix up your Purple Carrot meal delivery with both meal kits and prepared meals to make life even easier!
Purple Carrot's vegan meal delivery service consists of 100% healthy, vegan, plant-based meals with a focus on fresh whole foods – fruits, vegetables, nuts, seeds, and grains. If you have dietary restrictions, Purple Carrot meals includes a good variety of food for everyone.
Take the sesame orange tofu with roasted green beans and sticky rice for instance or the soy free mac and cheese with broccoli and crispy cajun walnuts – also gluten free and high protein if that's of concern.
Whatever dietary restrictions you may have, Purple Carrot offers different meal plans to satisfy your requirements with all nutritional info listed under each recipe on the website – how many servings, whether or not it's nut free, low carb, low calorie, gluten free, or high protein.
Meal Kits
The plant based meal kits come grouped in bags with a label on each bag that helps you identify Purple Carrot's recipes. The only thing that is not included are any oils, salt or pepper.  Meal kits include organic ingredients for non produce items and fresh produce when available.
You can expect to prepare hearty, flavorful meals that may include tofu or tempeh as "meat" replacements in some recipes but not much of the highly processed meat alternatives. They focus more on creating and delivering healthier meals without the processed JUNK.
How easy are Purple Carrot meal kits to prepare?
Purple carrot meals generally take about 30 minutes to prep and cook. However, prepping and cooking some of Purple Carrot's recipes can take anywhere between 30-45 minutes. It all depends on what the recipes entail. Whole grain, for example, will typically require a longer cook time, or recipes with a longer ingredient list can take longer to prepare.
The good news is, Purple Carrot meal delivery now has new Less Prep meal options, which makes it even easier to make these delicious meal kits that help cut back on meal prep and cook time! I would definitely add these less prep meal options to your weekly box.
Prepared Meals
Purple Carrot offers prepared meals which is a Godsend for those who prefer to have a ready-to-eat meal versus cooking it up in the kitchen. These meals come in handy in a school-aged family household and makes serving dinner a breeze!
There are 15 single-serving prepared meal options to choose from every week.
Some delicious options include:
Creamy Mac 'n Cheese with Pesto Peas & Sun Dried Tomatoes

Spelt Risotto with Aummer Vegetable Xaponata
Don't mistake these prepared meals for the Purple Carrot frozen meals you find at Target, Whole Foods or anywhere else they are sold. These meal options are only offered through the Purple Carrot meal delivery service and are not found in stores.  
Since they are made with fresh, all-natural ingredients, they must be refrigerated and consumed within the week. 
Cooking Purple Carrot Prepared Meals
The meals only take 5 minutes to heat up and can be stored in the fridge –  making them ready-to-eat at any time!
The instructions on the package are super easy to follow and a healthy, fresh, delicious meal can be ready-to-eat in less than 5 minutes. 
Here's How:
Remove the packaged food from the cardboard sleeve and pull the plastic film back approximately 1 inch from the corner

Microwave for 2 minutes 

Let it cool for about a minute and enjoy!
Servings Per Container 
Purple Carrot prepared meals are made to serve one person and are single-serve meal options versus the meal kits which are made to serve two at minimum. 
Nutritional Info
For prepared meals, you can find nutritional info on the package itself. Meals have no added sugar and are made with a substantial amount of plant protein with calories ranging between 480 and 690 per serving. 
For meal kits, nutritional info can be found under each recipe on the Purple Carrot website and can be viewed at time of meal selection.
A recent clinical study proved Purple Carrot meal kits to be beneficial in lowering cholesterol and reducing body weight significantly… 
What's even more is that their findings from the 4 week study showed that those in the Purple Carrot group reduced their weight significantly  from baseline compared to the non-plant based group who's results observed an increase in weight. 
All are healthy meals and delicious vegan options with zero animal products.
Prepared Meals Pricing
Each single-serve meal is $12.99 per tray. You can order as many as you'd like but in order to save on shipping, you must meet the $75 minimum order which means you would have to order at least 6 meal trays. 
Keep in mind, prepared meals are refrigerated and not frozen, so if not consumed within the week, they can go bad. 
Purple Carrot Meal Delivery Add-Ons
Purple Carrot has add-ons you can add to your meal delivery each week. They range from breakfast and lunch items to dessert and snacks. They also have pantry type options you can choose from in what they call their "Plantry."
My favorite are the breakfast recipes. And if you're a breakfast fan like I am, you'll love the Cherry Berry Chia Jam or the soy free French Toast. So good!
Who is Purple Carrot Good For? 
Purple Carrot is ideal for anyone who is already on a vegetarian or vegan diet but is also good for those looking to get a taste of plant-based vegan food and add healthier food variety into their weekly diet.  
It's easier to just get home and know what you're going to cook and eat without wasting so much time trying to figure out what you're going to make next that you end up opting for take out. I know, I've been there! 
Yes, it requires time cooking and cleaning but you're going to have to cook and clean anyway, right?
Plus, on top of that, you still have to plan out your meals and get to the grocery store to gather up the ingredients. That's after you've figured out what you want to eat and cook for the week which takes up even more time. 
Whether you're choosing the meal kits, ready-to-eat meals, or a combination of both, Purple Carrot meal delivery makes it easy to incorporate delicious, nourishing meals into your diet without the hassles. 
Packaging and Delivery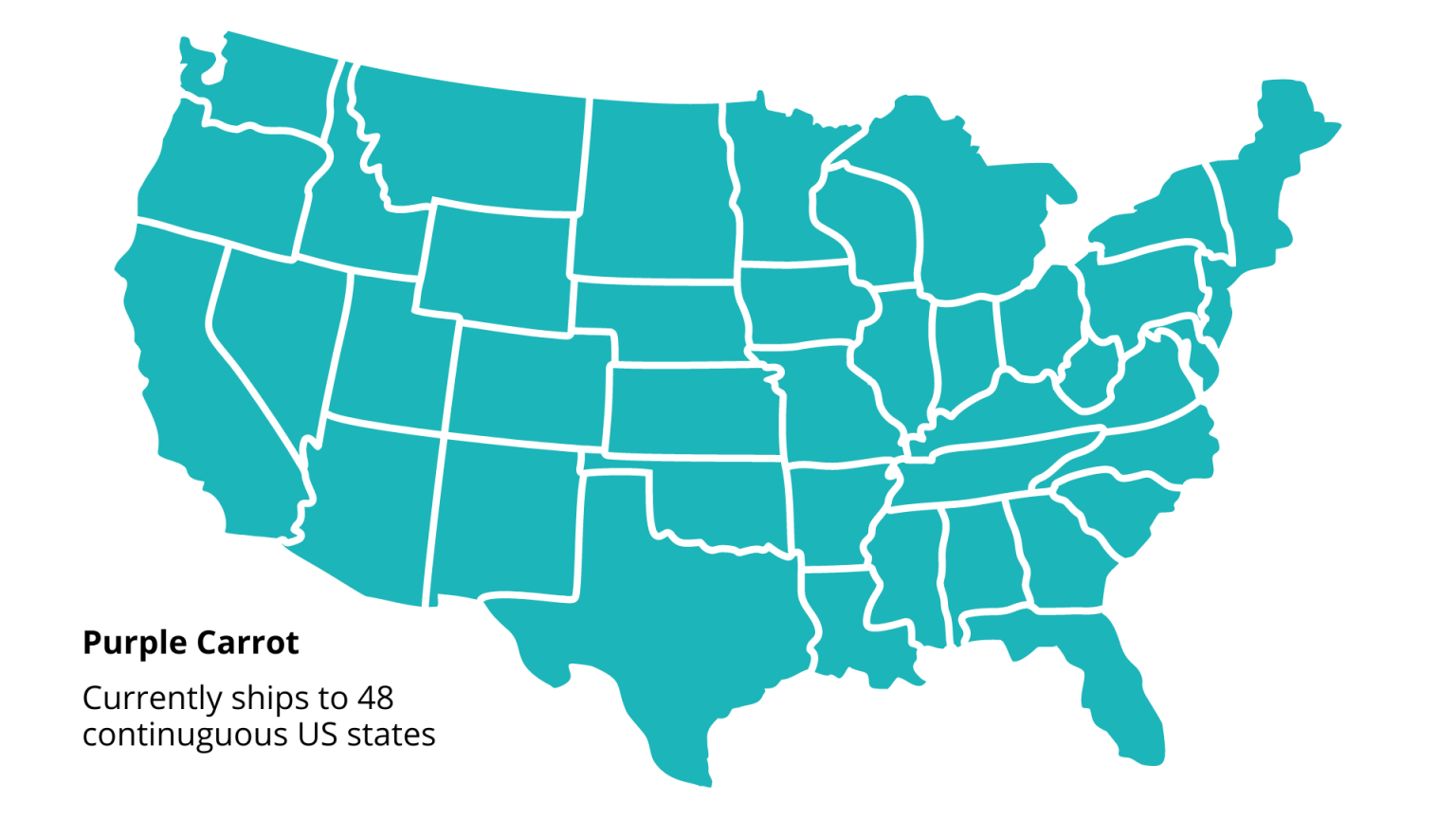 Delivery
Purple Carrot currently ships to throughout the United States, except for Hawaii and Alaska. To see if your zip code is eligible for delivery, you can easily check with a Customer Service Representative by clicking on the chat button at the bottom right corner of the Purple Carrot website to confirm your zip.
After placing your order, you will receive tracking information and instructions via email. Purple Carrot is pretty good at keeping you posted with everything you need to know every step of the way from when it ships, up until your box is delivered.
Packaging and Environmentally Friendliness
All meals come well organized in the box and packaged in recyclable plastic bags with labels for easy meal reference. Some items were placed in the box without plastic. They also tell you which meal kit they recommend first which you'll find noted on one of the labels. 
The box and packaging are fully recyclable. The ice packs are biodegradable so they can just be thrown in the trash. You'll even receive an email that breaks it all down for you with recycling instructions on what to do with it all. 
The Prepared meals have less packaging and consist of a recyclable cardboard sleeve, plastic film and recyclable plastic tray.
How Much Does Purple Carrot Meal Delivery Cost?
There are only two pricing options with a Purple Carrot meal delivery – both of which include shipping. If you opt for two servings per meal, the cost per serving is $13.25 whether you go with 3 meals per week or four.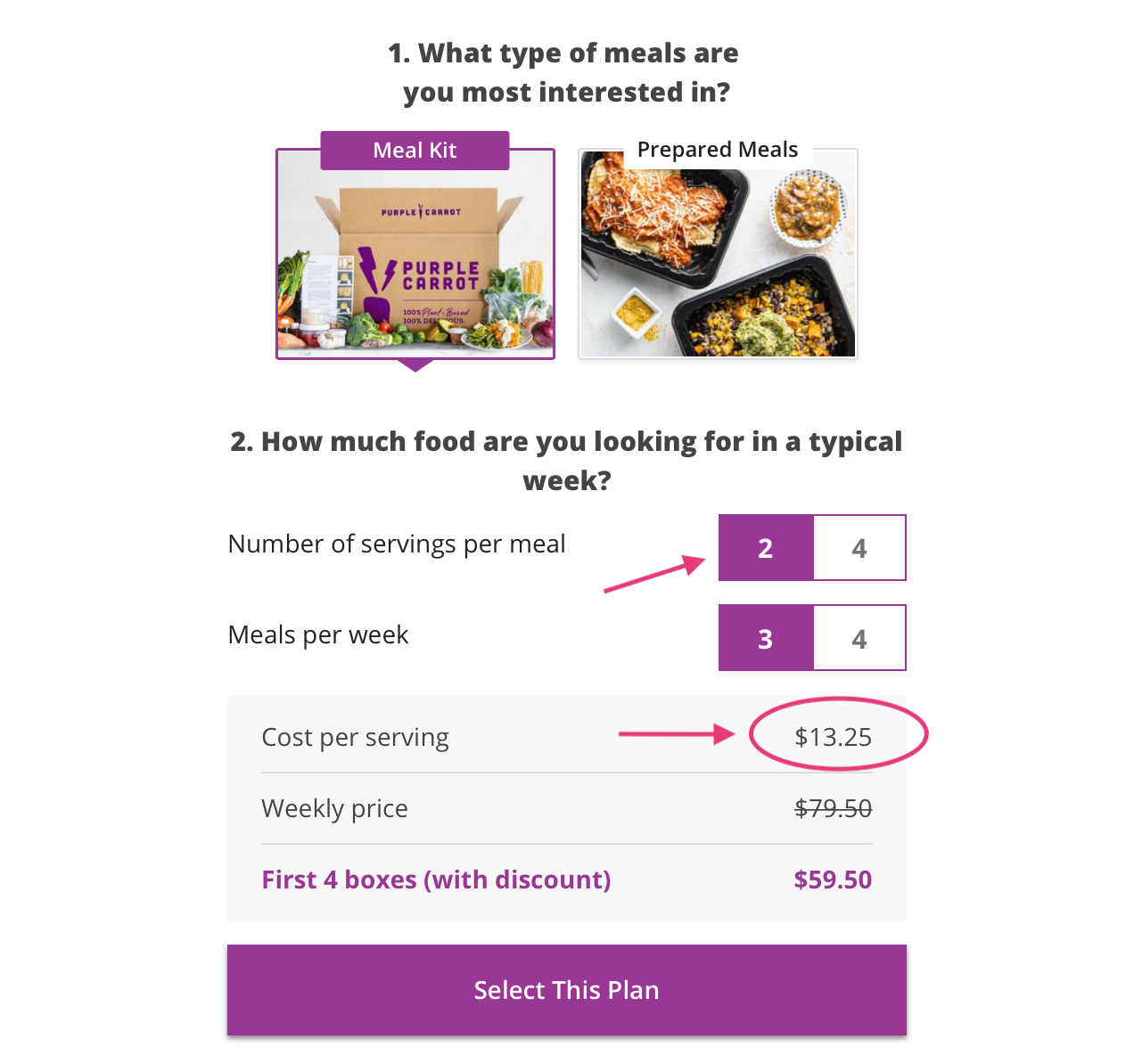 If you choose to go with four servings per meal, the cost drops to $11.00. Several breakfast menus are offered at $4.99 per entrée and lunch selections at $8.99 per entrée if needed.
Right now Purple Carrot is offering $20 off your first 4 boxes which is a great deal and opportunity to try out a variety of meals throughout 4 weeks at a lower cost investment.
** Use code NEWCARROT23 (Ends 2/28/23)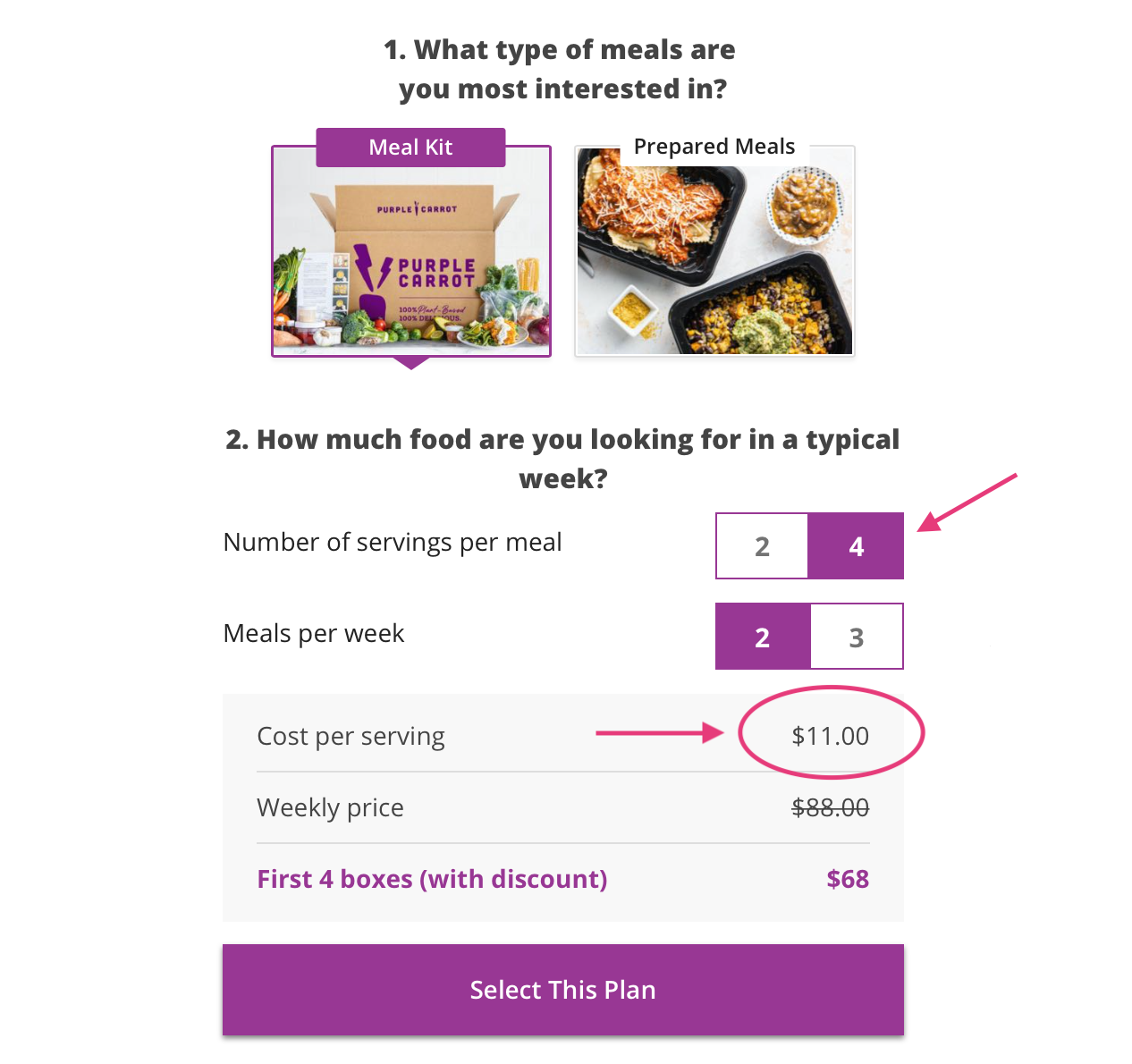 If you think about it, you might be spending way more than that on a night out – whether at a restaurant or a bar. You might even be ordering take-out from Uber Eats, DoorDash or GrubHub – Probably spending more than you realize.
A lot of times when it comes to our health, we short change it and often opt for the stuff that isn't good for us without giving it much thought. Most of the time, without even questioning the cost or consequences. We just do it because it's comfortable. 
The minute we talk about health and wellness, we quickly resist and make all kinds of excuses as to why not versus why we should. 
Just some 'food' for thought. 
Valid until February 28, 2023.
Changes and Cancellations
You can add, change or cancel meals easily through the app or through the website. You can also skip a week's delivery or cancel anytime prior to the weekly cut off.
Changes
Purple Carrot does a great job keeping you in the loop from beginning to end with important order and shipping details as well as useful tips and suggestions. With their email notifications reminding you of the cut off date, you'll have plenty of time to make changes to your box or subscription if needed. 
As long as changes are made before the deadline, you should not have a problem at all. There are no limits to the amount of changes you can make or how many weeks you want to skip.  
Cancellations
If you choose to cancel your subscription, you are free to do so at any time – hassle-free. You don't even need to call anyone. 
Purple Carrot has a streamlined system that makes it super easy to use making it easy for changes or cancellations to be done quickly and easily online. 
And, if you decide to give it a go again, simply sign back into the system and start back up. Your information is stored for you to make it easy to reactivate and pick it right back up again.  
Who are Purple Carrot Prepared Meals Good for?
These single-serve meals are great for those who don't like to cook, live alone, have busy schedules and need help getting in good nutrition throughout the week versus opting for JUNK take-out when you're in a rush or simply just need a break from cooking and want something nourishing that is ready-to-eat. 
It's also a perfect option for single parent households with school-aged kids and takes the pressure off the back-to-school craziness!
Purple Carrot Reviews

Purple carrot averages 4 stars on Trustpilot based on 787 customer reviews. On average, meal delivery services usually respond within a week to negative reviews. And, while there are many positive comments, there will always be a few that get the short end of the stick.
Overall, Purple Carrot is a hit for vegetarians, vegans, and non-vegans just the same. Here's a review from a subscriber sharing their thoughts on their Thanksgiving celebrations box. This one stood out to me because the holidays are usually the toughest for vegans to get through and Purple Carrot delivered an awesome Thanksgiving meal kit which obviously was a win for this family.
In this Purple Carrot review, PurpleJen states,
"Your ingredients are always fresh! Your packaging is minimal. And we love how all the savory recipes are filling, w/o depending on bread, potatoes and rice to fill the body. So many choices and variety within our vegetarian/ gluten -free requirements. Thank you!"
Below are some more recent 5 star reviews – 
Summing it Up
Whether you're someone who already lives a plant based lifestyle, wants to try vegetarian recipes, alleviate the daily meal preparation, incorporate healthy meals without animal products, or is in transition, Purple Carrot meal delivery service is a perfect fit. 
While some meal kits may take longer to prepare and cook, it still serves as a great way to change up your meals for savory and flavorful healthy meals that save you time gathering up the ingredients after finally deciding what you're going to make. 
Everything is pretty much done for you. All you have to do is follow the easy recipe instructions, cook your meals and enjoy them!  
If you're someone who is always pressed for time and doesn't have the time to follow a recipe, cook a meal, or even put much effort into meal planning, yet still want to incorporate more plants in our meals, then Purple Carrot's meals are made for you. 
I've been eating a predominately raw vegan diet for 10 years now which has made life much easier with just prepping my meals versus cooking and adding cleaning pots and pans to the mix. 
Still, I do like to have a cooked meal at least once or twice a week for some delicious vegan options and flavors. But personally, I would rather opt for the prepared dinners unless I can get someone to cook the meal kits for me!
All in all, meal kit delivery services are the way to go.